current position
I am professor of Design for Sustainability at Umeå Institute of Design, Umeå University, Northern Sweden. I also hold a position in the Department of Sociology, Environmental and Business Economics at SDU Esbjerg, in the MERE research group, where I undertake food system transformation research. In my research, I seek to understand how critical, collaborative, embodied engagement with the challenges of sustainability transition might assist us in finding new ways of living that are intimately situated, as well as personally, locally, regionally and globally sustainable and sustaining.
I work with sustainability transitions, from the foundation of design research, collaborating with diverse societal stakeholders including municipalities, industry actors, policy-makers and citizens (understood in the sense of planetary citizenship), using living labs as a mechanism for developing roadmaps for sustainable transition through situated, at-scale action; engaging citizens in radically open co-creative citizen science processes; using embodied approaches to participatory research-through-design to disrupt norms in more-than-human health; and support the development of hands-on environmental citizenship. From a research perspective, I collaborate with STS researchers, human geographers, health systems researchers, molecular biologists, and environmental and business economists.
My current research investigates:
food as a starting point for thinking
biology as a design material
critical, embodied, participatory research-through-design
radically open, co-creative citizen science
enriched science society interfaces
intertwining food, fibre and fabrics for future materials
design+diversity | ethics+aesthetics across materials, bodies, contexts, and perspectives.
situated sustainability transitions
more-than-human health
more-than-human flourishing
To support this research, I am currently recruiting post-doctoral and PhD researchers for a new research group in Umeå. More information will come on that soon. I also set up and continue to lead FoodLab in Kolding, a space for co-creation and experimentation around food system transformation, developed for the FUSILLI project.
In parallel to my work in Sweden and Denmark, I sit on the Academic Council at the Estonian Academy of Art Doctoral School; I represent Denmark on the committee of the European Network for Environmental Citizenship COST Action 16229; and am an associate editor on She-Ji: The Journal of Design, Economics and Innovation.
research concerns
My work spans material, technology and design innovation; poetics, performativity, participation and play; fashion theory; post-disciplinary collaboration; health, wellness, ability and creativity. Key concerns include:
building resilient and regenerative futures
enchantment and ambiguity as resources for design
encouraging magical thinking and making strange
participatory research through designing
co-creation and collaborative imagining
emergent performativity
convergence
poetics and
play
broad aims:
To prompt a reappraisal of human-nature relationships; from material, technological and biological perspectives; towards multispecies flourishing; across socially, ecologically and environmentally evolving landscapes; at personal, local and global scales of action. In particular:
using food to develop future imaginaries
exploring divergent thinking, abilities, bodies, values and expressions
divergent personal, social, political, ethical and ecological concerns
the roles that creativity, art, design, performance and DIY-practices might play when engaging with material, technological and biological processes
how designing and living might evolve to be personally, locally and globally sustainable for all
other activities:
For (occasionally updated) research activities, see: wilde news
From a personal perspective, I moved to northern Sweden in March 2022. It has been a revelation. As an Australian in Europe, I have always missed large skies and omnipresent nature. Umeå has these things and more. Lovely people, a vibrant restaurant scene, stunning nature, a world-class academic environment, and a relaxed pace of life. I am excited to build my research group here.
Before moving to Sweden, I was based in Kolding, Denmark for 7 years. In December 2021, I moved professionally to Esbjerg to engage with Environmental Economics and food systems transitions (while continuing to live in Kolding). I maintain a part-time position at SDU, to continue to engage with my amazing colleagues in Esbjerg, at MERE and SEBE.
Before moving to Denmark I donated my electronics to Media Lab Melbourne, my circus equipment (via Anni Davey of Circus Oz) to Sosina Wogayehu's GAMO Circus School of Ethiopia, and my Japanese fabrics and sewing bits and pieces to the fabulous Tania Spława-Neyman, to glean or give away. I then rode my (at the time) brand-new BMW G650GS motorbike around and up the centre of Australia (2,000km/7days around Tasmania learning how to ride, then 26,000km/83 days around the mainland). I finished the trip having had my bike and licence for less than a year, fundamentally changed by the process. A patchy blog account is here: grrrrty.wordpress.com. The pink lines on the map show the journey: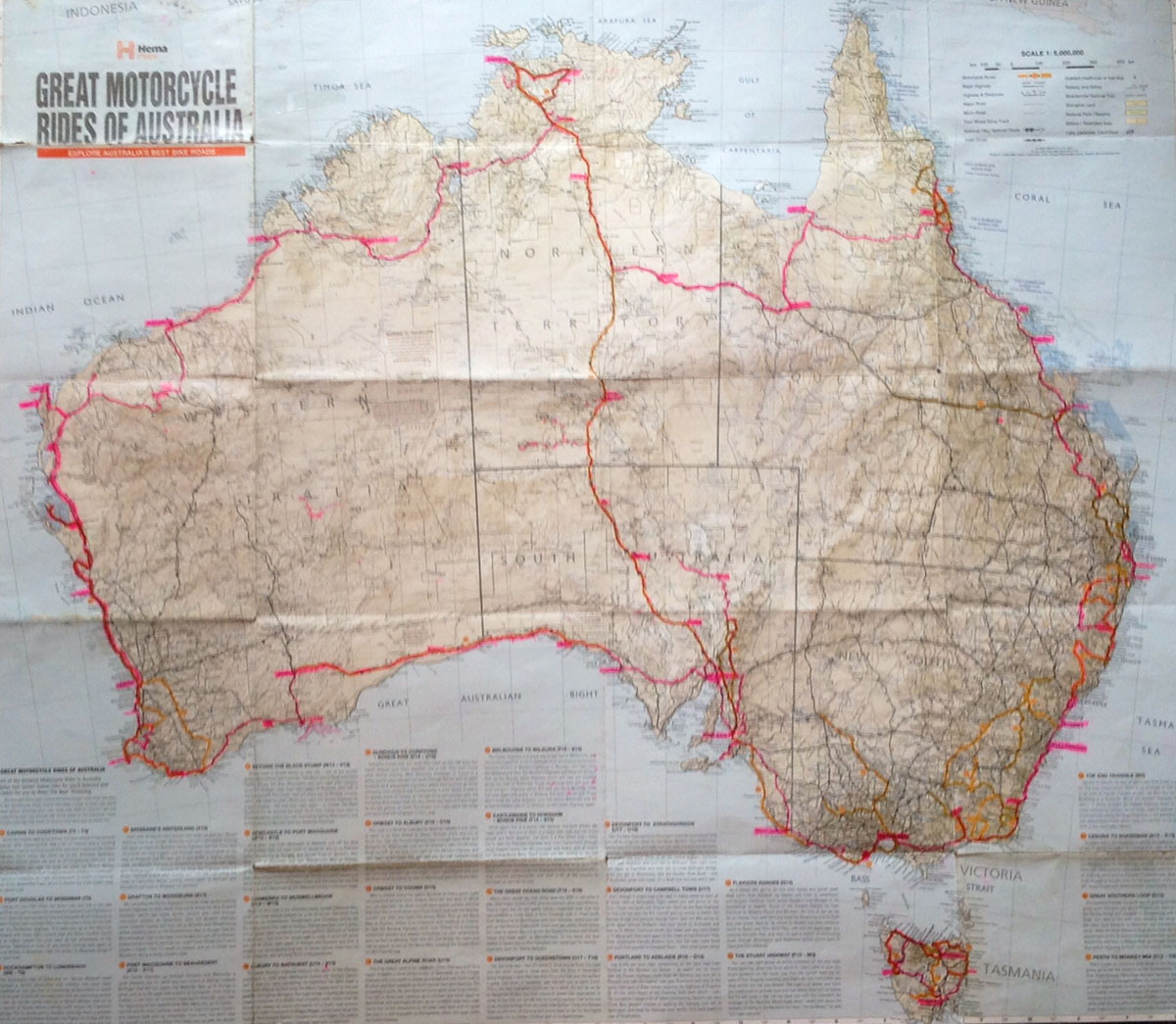 In Europe, I've done seven motorbike tours so far, on a G700GS: a Kolding-Weimar-Pottsdam loop in 2015; a Nordic-Baltic loop in 2016; the Alps, via Germany: 6 countries and 30 Alpine passes, in 2017; Scotland, the Pennines, the Lake District and the Yorkshire Dales (via Germany, the Netherlands and Belgium), in 2018; the Spanish Pyrenees and some Alpine passes in Switzerland, in 2019; the Harz Mountains, Luxumbourg and the Ardennes, Belgium, in Summer 2020; Luxumbourg and the Mosel Valley in Summer 2021: