I am an Associate Professor of Embodied Design at the University of Southern Denmark, Kolding (SDU). My research aims to understand how designing with, for and through the full sensorial richness of the human body might transform how design and living unfold in a more-than-human world, positing human embodiment, the climate crisis and the 6th mass extinction as interdependent material issues.
My current research investigates:
food as a starting point for thinking
biology as a design material
embodied, participatory approaches to enrich science society interfaces
intertwining food, fibre and fabrics for future wearables
design+diversity | ethics+aesthetics across materials, bodies, contexts, and perspectives.
To support this research, I lead the Soft Lab, within the SDU Maker Lab at Pakhuset on the harbour in Kolding. The Soft Lab affords practice-based research through garment engineering, wearable technologies, wearable biologies, designerly engagement with food and science. The lab welcomes students, researchers and designers in residence, and is part of the Nordic/Baltic BioMedia Network
Concurrent to my work at SDU, I am: an Adjunct Professor in the School of Fashion and Textiles at RMIT University, Melbourne, AU; an Associate Research Fellow at WAAG Society for Art, Science and Technology, Amsterdam, NL; and I represent Denmark on the European Network for Environmental Citizenship (ENEC) Cost Action 16299.
concerns
My work spans material, technology and design innovation; poetics, performativity, participation and play; fashion, wearables and body-based technologies; health, wellness, ability and creativity; and design thinking. Key concerns include:
enchantment and ambiguity as resources for design
encouraging magical thinking and making strange
physical, gestural and sensorial extension
co-creation and collaborative imagining
emergent performativity
convergence
poetics and
play
aims:
To prompt a reappraisal of the body and embodied relationships to material, technological and biological innovation in socially and ecologically evolving landscapes. In particular:
using food to develop future imaginaries
inciting people to move and extend themselves physically and imaginatively, using all of their senses and abilities to engage with the world
exploring divergent thinking, abilities, bodies, values and expressions
the idiosyncratic nature of relationships to bodies, materials, technologies and ecologies
divergent personal, social, political, ethical and ecological concerns
the roles that art, design, performance and DIY-practices might play when engaging with material, technological and biological innovation
how designing and living might evolve in the 21st Century and beyond
activities:
For research activities, see: wilde news
I've been based in Kolding since December 1, 2014. Before moving to Denmark I donated my electronics to Media Lab Melbourne, my circus equipment (via Anni Davey of Circus Oz) to Sosina Wogayehu's GAMO Circus School of Ethiopia, and my Japanese fabrics and sewing bits and pieces to the fabulous Tania Spława-Neyman, to glean or give away. I then rode my (at the time) brand-new BMW G650GS motorbike around and up the centre of Australia (2,000km/7days around Tasmania learning how to ride, then 26,000km/83 days around the mainland). I finished the trip having had my bike and licence for less than a year. A blog account is here: grrrrty.wordpress.com. The pink lines on the map show the journey: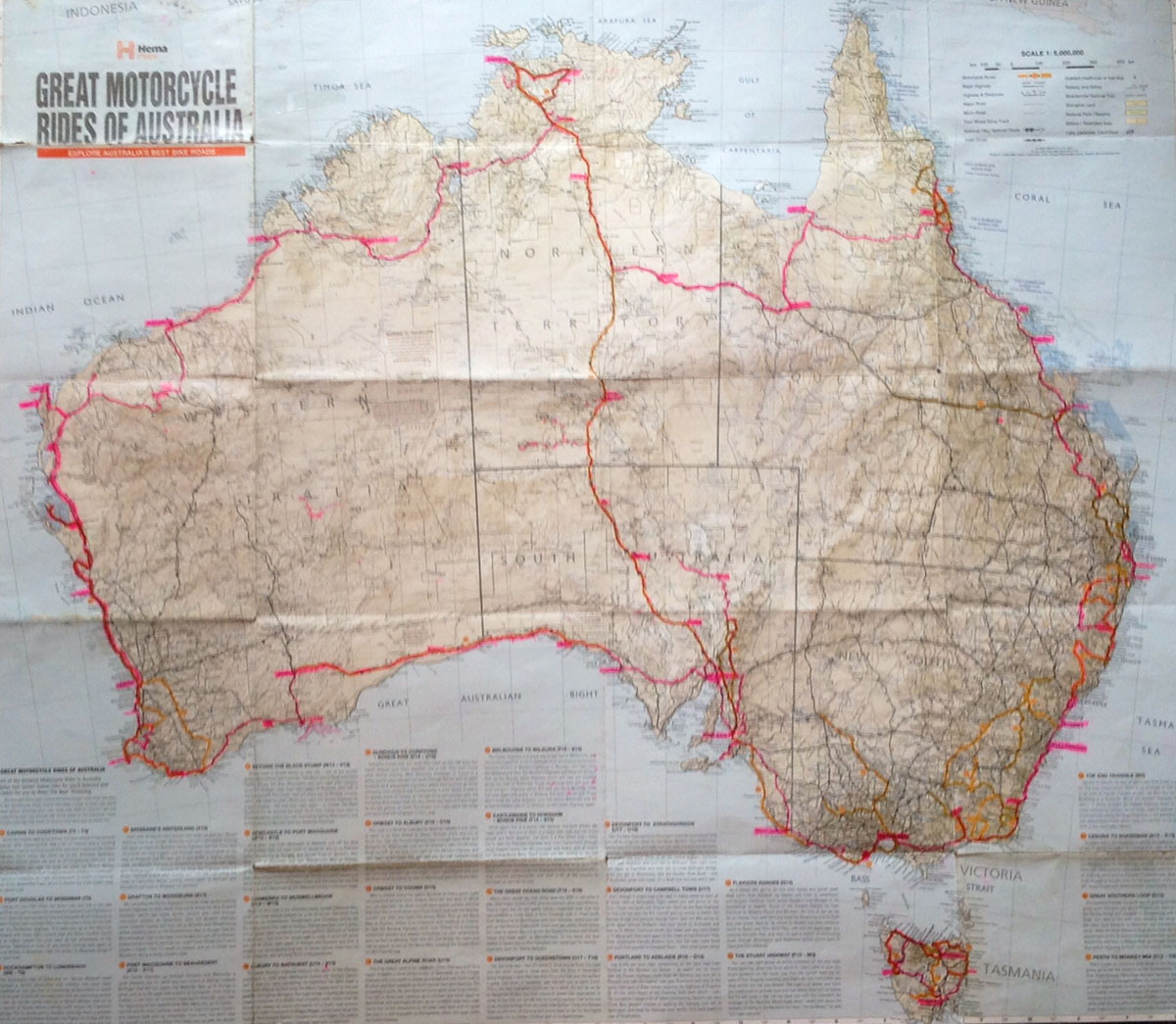 In Europe, I've done four motorbike tours so far, on a G700GS: a Nordic-Baltic loop; a Kolding-Weimar-Pottsdam loop; the Alps, via Germany: 6 countries and 30 Alpine passes; and Scotland, the Pennines, the Lake District and the Yorkshire Dales (via Germany, the Netherlands and Belgium):