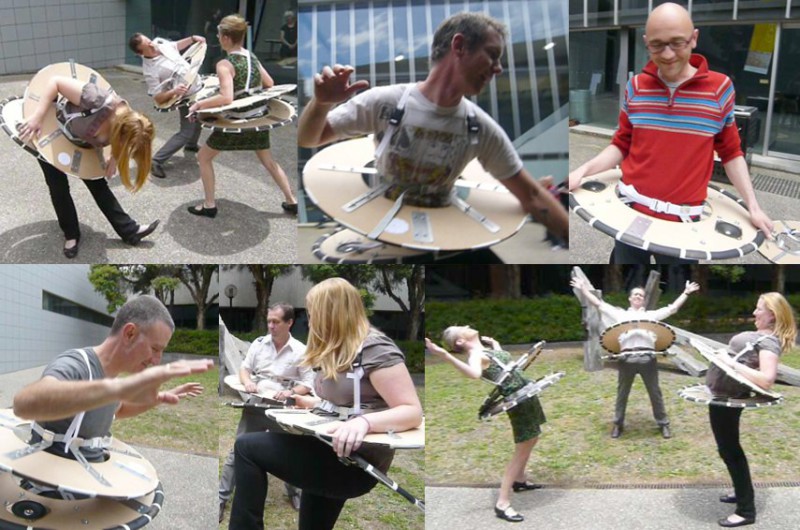 random hipDisk-ed explorers at Monash University Melbourne Faculty of Art & Design
Overview
Possibly the most undignified musical instrument ever, hipDisk exploits changing relationships between torso and hip to actuate sound. Simple horizontal disk-shaped extensions of the body exaggerate, so make highly visible, the interdependent relationship of the hip and torso. Soft switches, strategically placed around the perimeter of each disk, allow the wearer to play a chromatic scale, and so play simple melodies, restricted only by flexibility and speed of swing.
hipDisk is designed to inspire people to swing their hips and explore and extend the full range of movement available to them through a simultaneous, interdependent exploration of sound. In creating hipDisk, the interest was to move beyond limb- and digit-triggered switches and explore full-body movement for actuation. The resulting body-instrument interconnects choreography and composition in a fundamental way, and hopefully opens up new areas of exploration.
hipDisk was worn by Red Symons for his ABC774 radio morning show on 1 august 2011 and won the ABC TV's New Inventors program, episode 22, 2011, making it a finalist in the Invention of the Year competition!
hipDisk described and demoed for ABC New Inventors. Winner of episode 22 of ABC TV New Inventors programme in July 2011. I describe the disks and you watch three people playing them for the first time
hipDisk participatory exhibit – People wearing the disks for the first time.
ABCTV New Inventors' judges play.
RELATED PROJECTS